Washington County Energy Planning
Long Term Outcome:
Creation of new and expanded growth in renewable energy market resulting in significant job growth and increased average wages.
Washington County Energy Initiative
Washington County received an Energy Efficiency and Conservation Block Grant in May 2009, funds from the American Recovery and Reinvestment Act provided through Efficiency Maine. This grant allowed the County to conduct energy efficiency planning and outreach. Due to various unforeseen circumstances, it was July of 2012 before the Washington County Energy Initiative (WCEI) was formed and an Energy Committee met for the first time. Staffed by the Washington County Council of Governments, the group is composed of Washington County residents with experience and/or interest in the field of energy efficiency, building maintenance, heating, cooling and ventilation, and community health. They met monthly during the summer and fall of 2012.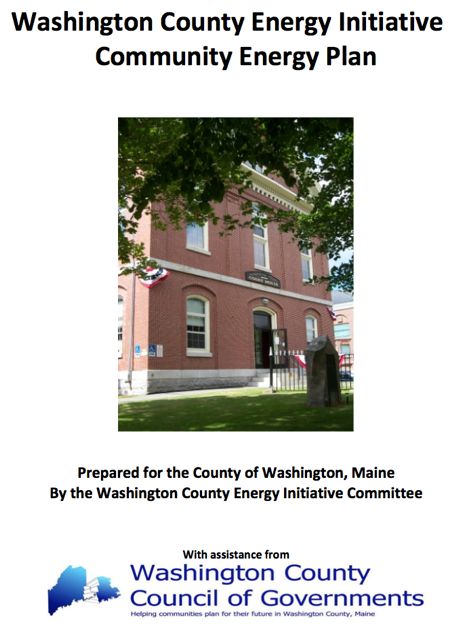 This Washington County Energy Plan outlines Washington County's:
current energy use,
future energy use goals,
specific recommendations and actions that should be taken to achieve those goals,
brief descriptions of alternative energy resources and their associated planning considerations,
policy options for county and municipal refinement and adoption, and
implementation incentives.
Associated with the descriptions of alternatives and in the spirit of workforce development the Energy Committee heard from vendors of alternative energy providers. Their presentations are available here in separate PDF documents:
With this plan, Washington County is presented with the opportunity to take control of its energy use, improve the County's economic and environmental resilience, and reduce the financial burden of high-energy prices on its operations, as well as its citizens.
A significant component of the Washington County Energy Plan is the Building Energy Audits for Washington County, Maine, prepared by Breakaway Energy Services LLC (Note 7.2MB) that includes energy audits for the County Court House, the District Attorney's Office and the Communication building that houses the Washington County Emergency Management Agency (WCEMA) and the offices for the Unorganized Territories and Cooperative Extension. The Sheriff's Building and the County Jail were also evaluated in this process as components of the courthouse building.
The energy audits recommended detailed energy conservation measures in several categories: lighting, fixture controls, mechanical systems, building envelope improvements and conversion of heating systems, primarily to biomass. Findings and recommendations for energy efficiency improvement fit into three priority levels:
Priority 1 opportunities are recommended for immediate implementation. These are generally low-cost improvements spread across multiple areas in the audits, such as adding window sash weather seals and updating building insulation.
Priority 2 opportunities require more planning and more capital investment, such as adding radiator thermostatic controls and extensive adding/updating of building insulation. Breakaway recommends that these improvements be installed within the next 1-5 years.
Priority 3 opportunities are predominantly "wish list" items that will have longer payback periods and/or require significant additional consideration, such as installing a solar photovoltaic array.
Many of the Priority 1 opportunities identified by Breakaway are low-cost improvements that can provide a quick return on investment to the County. In a proactive effort to improve the efficiency and cost-effectiveness of its operations, the County is retrofitting window sash weather seals at the Communications at 28 Center Street.
Washington County is also collecting information and investigating an energy study funded by the Biomass Office of the US Forest Service, State and Private Forestry, Northeast Area, through the Maine Forest Service Wood to Energy Grants Program. Additional grant opportunities will be explored by the WCEI for some of the larger efficiency projects identified.